7 Unusual Features You Might Not Expect in Multi-Functional Printers
If you are thinking of investing in a multi-functional printer, it is likely that you will be looking for a device that can print, scan, copy and maybe even fax, but did you know that some MFPs offer a wide range of other more unusual features? Below we will explore seven unusual features you might not expect in multi-functional printers.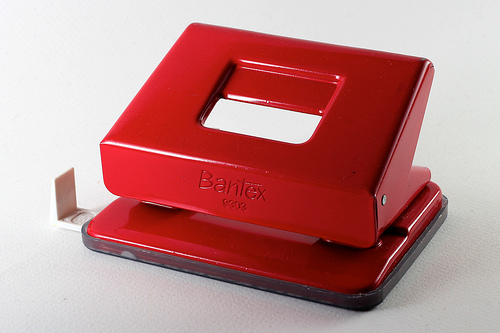 Many MFPs have a hole punching feature that will save you time and effort.
Image source: https://farm6.staticflickr.com/5187/5595274177_fd99d7854d.jpg
Hole Punching
Some multi-functional printers give users the option to have their printouts hole punched. When you go to print a document, you simply have to tick the hole punch box and the printer will know to automatically hole punch every page it prints. This means that once your documents have printed you can simply slip them into your binder for safekeeping. Having your documents hole punched by an MFP will save you a lot of time and effort.
Stapling
Another basic finishing option that many multi-functional printers offer is stapling. This can come in handy when you are printing out a lot of pages, as it can prevent them from getting mixed up and lost. All you will need to do is select 'collate and staple' in print options and the multi-functional printer will do all of the hard work for you.
Saddle-stitching
If you make a lot of booklets and brochures at work, you may want to consider investing in a multi-functional printer that has a saddle-stitching feature. Once the pages of a document have been printed, it will be fed into the MFP's stitcher where the stitching process will automatically take place, binding the pages together with metal staples.
Folding
Many multi-functional printers offer a wide range of folding options. Folding functionality is particularly useful if you make a lot of booklets. You will usually be able to select the folding option you require in print settings. Folding options usually include z and c folding; cover binding, creasing, tri-folding and envelope folding.
Scheduling
Scheduling is a fairly new feature that many multi-functional printers now have. This allows you to schedule when a fax will be sent or when a document will be printed. This is particularly useful if you are sending a confidential document to be printed from a remote location. Using the scheduling option, you can time the printing for when you are back in the office ready to retrieve the confidential document.
Silent Operation
Printing is not the quietest of processes, but thanks to some multi-functional printers it now can be. Yes, today many multi-functional printers carry out silent printing, so employees are not disturbed by noise in the work place.
Worried that printing documents out will distract your staff? Choose a printer that offers silent printing.
Image source: https://farm2.staticflickr.com/1220/1446906402_152994b6ec.jpg
Watermarking
The security of sensitive documents is a major concern of many business owners, particularly when it comes to printing them out. Something you may want to consider investing in is a MFP that has a watermarking feature. When you print out a document using watermarking, the printer will create a security watermark pattern in the background. If someone then tries to photocopy this document, they will not be able to unless they are able to input a password, created by you.
Conclusion
Although you may not expect multi-functional printers to bear these unique and unusual features, all of them will actually prove to be very useful and will help to streamline your printing, copying and scanning processes. When shopping for a multi-functional printer, remember to look beyond the main features and see what else they have to offer to ensure you choose the best printer within your budget.
Image credits: msaari & Ciudadano Poeta