Kyocera's Tips on Printing Sustainably
You may think that the economic downturn following the 2008 financial crisis might have turned businesses off being more green and cutting their carbon footprint. Recent research from Kyocera though shows that it has little or no effect and that many companies are using sustainability as a way of lowering costs and improving efficiency.
In the end, if your multi-function printer is running on less energy then you are saving money on your electricity bill, and that has to be good.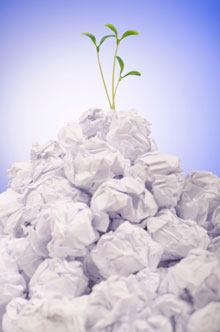 Kyocera have a number of tips to help reduce the amount of paper we use.
If you are only going to read a document one time, then resist the urge to print it out. If you have a tablet or pc then you can read it on that just as easily.
Select print preview – wasting paper is easily avoided if you have a look on your pc to make sure the page looks just the way you want it, particularly useful if you are printing promotional material. There's nothing worse than clicking the print button and finding that it has come out in the wrong orientation or in draft mode which means you have to send it through again.
Make sure you fit as much text onto a page as possible. Opting for a slightly smaller font can make all the difference without making your document difficult to read.
Choose a multi-function printer that has duplex printing – it saves on paper and helps to reduce your carbon footprint in more ways than one.
If you are just disseminating a document around other staff then consider printing more pages on a single sheet.
Do you need to print the whole document? Selecting just the pages you want can help reduce the amount you print quite dramatically.
Make sure you have proof read your document before you actually print it, especially if you have to make multiple copies.
If you have a meeting, make sure you print only the copies you need. People can always share if someone shows up that wasn't meant to be there.
Rather than make hard copies at all, scan to email or send to a device like a mobile or tablet.
Use a multi-function printer that has a smart sleep function that saves on electricity and, of course, remember to turn the machine off at night and over the weekend when it is not in use.
Kyocera is at the forefront of providing sustainable solutions for businesses and recently one of their Directors, Tracey Rawling, won Sustainability Executive of the Year. Her comment on receiving the award was: "Never believe you are too small to make a difference."