Multi Function Printers That Are Innovating in the Cloud
Earlier this year Sharp unleashed its cloud ready for new MFPs. With wireless LAN connections as standard, the MX-M565N, MX-M465N and MX-M365N have taken productivity to the next level. There is no doubt that 'The Cloud' is big for businesses at the moment, allowing people to store, share and use data and files away from their desktop computers.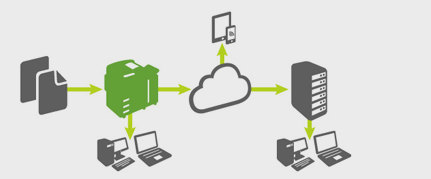 Bringing this functionality to the humble photocopier means that a single touch on the Sharp LCD panel can print any document that is stored in the cloud. And it doesn't stop there – users can also scan documents and send them directly to the cloud. And if you use SharpDesk mobile you can send documents directly to and from your smartphone.
Basically the cloud allows you to do all of your computing on the internet. Businesses are spending more and more time on it because it offers the flexibility and possibility for increased collaboration that can improve productivity.  Not only that it provides an environmentally friendly way of working because you can more easily send information between people and machines.
Sharps new multi function printers also provide a few other innovations including a new toner formula they say reduces the amount of energy used in printing.
The body of the photocopiers themselves are constructed from plastic made out of plants and biomass matter, that further helps reduce the carbon footprint and makes your office more eco-friendly.
With smart sleep patterns that mean your multi function printer can learn when it is used most and when it is not, and a facility for auto power shut off, the new range of Sharp MFPs are at the forefront of energy efficiency.
That doesn't mean they are skimping on fire power either.
With fast and reliable printing and copying, speedy scans and the ability to cope with high volumes, the new copiers have a range of finishes and options that can help any business create professional and great quality documents.
Sharp aren't the only ones that are innovating with cloud printing. Most new multi function copiers on the market now have it as standard, ready to set up when your business is connected to the cloud. It's a prime example of how the development of printing is informed and driven by other technological advances.
The advantages of cloud printing
You don't have to be there. You can access it and print from any part of the office, from home, actually from anywhere in the world that has an internet or Wi-Fi connection.
If you have a smart phone connected to the cloud and your printer in the office is connected to it as well, then all you have to do is have the right app and press 'send'.
It's a highly cost effective and efficient way to run your office printing.
There's no doubt that copier sales are moving to the next level with cloud ready multi function printers that boost business productivity and save you valuable time.